Well off to Sevastopol we went today. Only a 2 hr drive by young Manic chauffeur. I'm Surprised I am still alive lol.  Stopped at a very Beautiful church half way up a mountain. Foros Church of the resurrection of christ. Great views and very Beautiful inside and out. Valentina lit the candles and did the polishing.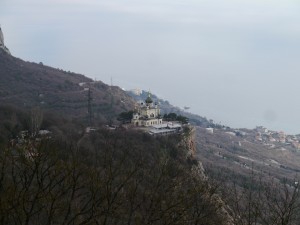 From here we fell down the mountain side into the war museum at Sapun Hill,
Where ever I go there seems to be more of these. This was for the storming of the hill before the town by the Russian forces in 1944. Although it commemorates the 1941 attacks by the Germans as well. The Museum was excellent with the diorama inside being the high lite of the trip.
But the tanks where pretty awesome to lol. Next time I hope to see the Crimea war one in Sevastopol its self.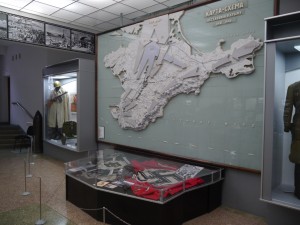 Into Sevastopol we went from here at brake neck speeds. Dropped off in a beautiful square and onto the boat ride around the basin that is the harbor. As good as any in the world so the Captain said. After a quick conversation on how Crimea was Russian and will always be Russian and a bit of spitting on the deck when I mentioned the Ukraine he showed us the Russian navy. 26 Ships in harbor, some old but some brand new sub hunters capable of 120km and hour as well. We wont mention the Ukrainian submarine or the fact that the Ukrainian president happens to own half of the harbor still lol. Politics eh.
Back to port after seeing the Crimea war memorial and that built by the locals for there Afghanistan dead. A quick Coffee and delicious pizza at the cafe Montana and home for supper. Great day. Even got my doll from an old English lorry driver who reckoned the uk was brilliant but don't mention the Ukrainian bandits lol. Don't worry that's not me being bundled into the back of the van by the KGB