For any Parties, Funerals, weddings, Hot or Cold Food, In your House or at a Hall Please contact me on peza@f2s.com
We use seasonal products so items may change.
We Use sandwich thins for bread as they don't curl, have less bread and more filling and Olive oil spread.
We drop anywhere and prices start from £5 a head including delivery cutlery and crockery which we take home with us so no washing up for you.
We Hire glasses out and can provide wines & Beers if requested.
We also have access to a small disco set if you require one for £100 for the night.
No order is to small. If you just want some sandwiches for tea we can negotiate a price and drop them round when you need them. We generally pick up dirty plates the following day.
Just contact us & we are happy to pop round and discuss your requirements.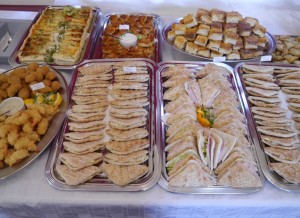 Sandwiches                               Samosas & Onion Bajis
  Stilton & Broccoli Quiche                    Sausage Rolls
           Prawns & Scampi                     Smoked Mackerel Pate
 Chicken dippers & Spring rolls     Cheese onion & pineapple dippers
  Salmon & prawn Biscuits                     Cheese Pizza